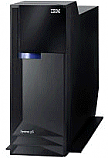 9407-M15 4300cpw OS V6R1 (click for details)
---
Refurbished IBM 9407-M15 p520, 4.2GHz single core, 5-users, OS V6R1 (V7R1 optional), 4gb memory, 564gb disk, RAID, ethernet, comm, DVD, internal 800gb/1.6tb LTO4 tape drive, P05.  IBM MAQ Certified!
Can be configured to meet your specific business requirements and PDR can assist with installation, data migration, license transfer and maintenance!
The IBM 9407 System is an IBM designed processor-based technology with efficient and high quality data performance features, involving a variety of 9407 processor models suited for different business environments and program enhancements. The IBM 9407 System processors come in i model 9407-515 and 9407 M-15, both with combined and unique features that allow the processor-based technology systems to match your business needs.
9407-515 Model
The IBM 9407 System i model 515 provides a combination of the full capabilities of Power5+ and i5/OS for entry system clients. The 9407-515 model is a one-way or two-way system that uses a 1.9 GHz Power5+ processor with L3 cache. This model offers i5/OS licensing by user, which is aligned with industry-accepted terms and concepts, along with a more affordable entry price and a design for both traditional and new solutions that make it an attractive and valuable option. This 9407 model is ideal for small business environments because of its easy-to-install, highly manageable system that provides a reliable and efficient performance.
The 9407-515's design benefits include a security and virus resistance system that ensures reliability and safety within your system processor. Its ability to run i5/OS, Linux, and AIX 5L application on a single system makes it a flexible and useful integration system. In addition, this 9407 model provides support for 5 to 40 concurrent i5/OS users with a P05 software tier and many of the basic software capabilities that can be built to your specific order and customizable.
9407-M15 Model
The IBM 9407-M15 System model has a Power6 4.2 GHz processor, one-core 64-bit chip with a 4 MB L2 cache, 1 GB of 16 GB memory, and 1 to 2 DVD drives. The 9407-M15 Model, also known as the Power 520 Express Edition, is an entry member supporting both IBM i 5.4 and IBM i 6.1. This 9407 model combines IBM's Power6 processor technology with its flagship operating system designed for small and medium-sized clientele. This Power System model offers a highly reliable, available, and efficient service functions that include reliable components for built-in reliability, recovery from intermittent errors or failover to redundant components, detection and reporting of failures and impending failures, and hardware that automatically initiates actions to perform error correction, repair, or component replacement. It also provides support for IBM I, AIX, and Linux operating systems, providing a broader availability of application offerings and more ways to manage the services for your business.
Additionally, the 9407-M15 provides high quality performance that combined with IBM i 6.1 offers significant improves in its Java and Websphere applications. This model is great for focusing on primarily running IBM applications, or if you currently have System i servers and plan on transitioning to the new Power6 processor-based systems, and provides high quality technology for mid-size businesses with a one-core server. It combines the Power6 processor-based server hardware system, key system components, and the IBM i system software into a state of the art configuration system that runs smoothly and efficiently.
---
Share this Product
---
More from this collection